2009+ 100Mbps seedbox offering is our most wanted offering for years, offering a great starting point for those new to seedboxes.
Servers
Servers are divisible into two groups, Virtual and Dedicated. All of them can be used for a seedbox with any torrent client.
Virtual servers are much like shared services in the sense there is multiple customers on single hardware machine. In Virtual servers customers are isolated into containers giving them most abilities and powers as dedicated servers in somewhat easier to use format. Performance, resources and some capabilities are limited however.
Dedicated server gives you a full hardware node and all the capabilities and drawbacks of an normal server.
Personal Dedicated Servers
100Tb Dedicated Servers
Support

available 24/7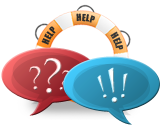 Pulsed Media has several support options available 24/7.
Pulsed Media?
Pulsed Media is the marketing name of NuCode for content distribution and rutorrent seedbox services.
Pulsed Media has been offering very high value BitTorrent seedbox services since early 2010, specializing in user friendliness and high value.
Pulsed Media is a registered company in Finland, VAT ID FI22551954.
Quick Links
Payment

Methods

Paypal, IBAN Wiretransfer.